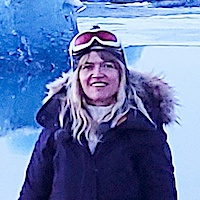 Born in Republic of Moldova, naturalized Romanian, Mariana Ungureanu studied at the Conservatory of Bucharest, where she was awarded first prizes in composition, orchestration, musical history, musical aesthetics, counterpoint and harmony.
She also studied composition at the Hogeschool voor Wetenschap & Kunst in Leuven (Belgium).
She holds a Master degree in Musicology at the Sorbonne University, Paris.
Mariana Ungureanu participated in several master classesand have taken individual lessons with Hugues Dufourt, Beat Furrer, Pierluigi Billone, Georg Friedrich Haas, Rebecca Saunders, Klaus Lang, Mark André, Chaya Czernowin, Peter Eotvos, Michael Jarrell, Marco Stroppa and Georges Aperghis. She was awarded artistic residences by the Festival du Carré in Belgium, Cité Internationale des Arts in Paris, DRAC Alsace and Herrenhaus Edenkoben-Villa Musica in Germany. She also followed the IRCAM workshops during Acanthes Academy in Metz.
Her music was performed by various ensembles and orchestras such Ensemble Aleph, S:I:C, Divertimento, Interface, International Academy of Ensemble Modern, Ensemble Aventure, Ensemble Antico/Moderno, Ensemble Le Pli, Ensemble Experimental Freiburg, Orchestre de Chambre de Wallonie and Orchestre National de Lorraine. It was performed in festivals such as: Clé du Soleil (Lille, France), Hamburger Klangwerktage (Hamburg, Germany), Atlas Festival (Netherlands), Bergamo Musica Festival (Italy) and Impuls Festival (Graz, Austria), among others.
Mariana Ungureanu was awarded grants from the French Ministry of Research, from Romainian Ministry of Foreign Affairs and from Ministerie van de Vlaamse Gemeenschap, (Belgium). She is a Laureate of the European programme "Pépinières Européennes pour Jeunes Artistes" and received the "George Enescu" Composition Prize for chamber music in 2005. Mariana Ungureanu is the winner of Armel Opera Festival Composer Competition 2015 with the opera project "Mathias and the Truthteler".
Her music catalog is based mainly on chamber acoustic music, and also contains two concertos, a symphonietta piece "Le Pas de l'Enfer", a large orchestra piece "Anagrammes", the "Maestro and Margaret Ballet Suite". Recent compositions include: two musical theater pieces, works for solo instruments with electronics, "Auctor", electroacoustic music (for the choreographic show of Marie-Laure Agrapart & Cie.) and Out of S.E.A. chamber opera (in collaboration with two composers), based on the homonimous novel by Sławomir Mrożek. Currently she is working on the opera Dorian Gray. A quest for ethernal youth, based on the famous novel by Oscar Wilde. It is scheduled for the première in June 2017 at the Auditorium 'Ohana' in Paris.
The musical aesthetics of Mariana Ungureanu draws on various topics related mostly to nature and mythology. Her recent compositions are influenced by the Arte Povera artist Giuseppe Penone, as well as by processes of the physics of electricity.