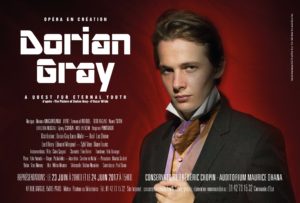 An opera based on the novel 'The portrait of Dorian Gray' by Oscar Wilde.
Live recording from the premiere on June 23rd, 2017, Auditorium Maurice Ohana, Paris.
Music : Mariana Ungureanu,
Libretto : Emmanuel Reibel,
English translation : Naomi Toth,
Conductor : Ajtony Csaba,
Stage direction and lights : Benjamin Pintiaux.
Cast :
Laura Muller – Dorian Gray,
Edouard Monjanel – Lord Henry,
Luc Dhénin – Basil,
Diane Fourès – Sybil Vane.
Musicians:
Claire Spagnol – flute,
Théo Fuhrer – clarinet,
Félix Baranger – trombone,
Yoko Yamada – piano,
Paola Aviles – harp,
Caroline de Nadaï – accordion,
Nicolas Souhait – percussion,
Yona Hémery – violin,
Miléna Mouton – viola,
Albert Kouchinski – violoncello,
Paul Slama – double-bass.
---